"They always say time changes things, but you actually have to change them yourself" - Andy Warhol
Hand dyed with natural colors
Handwoven Baskets in Colombia
Hand dyed with natural colors
Handwoven Baskets in Colombia
About ALWA
ALWA means dawn in Aymara, a language spoken in the highlands of the Andes. Our mission is to shed light on the work of exceptional local artisans from around the world. 
ALWA supports an ethical, social and ecological economy while distributing and promoting modern design and fair trade goods handmade in South America.
Our main goals are:
- to unveil and maintain amazing ancestral techniques while giving artisans (mostly women) the guarantee to get a decent income and better life conditions.
- to propose unique goods made of natural and sustainable materials.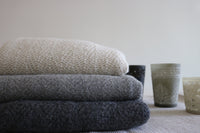 our commitments

Ethical and Fair Trade

100% Llama fiber*
(* in our scarves and hats)
Unique and Natural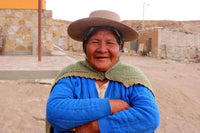 Ethical & Fair Trade
At ALWA, we take extra care to engage and personally meet each local artisan we partner with. The produced goods are the fruit of a respectful collaboration with each member along the production chain.
With your purchase, you have a positive impact on the sustainable development of their community. Each of our partners receives a fair wage and benefits from vocational training.
100% Natural Fibers
Each scarf is handwoven with 100% llama fiber, an all-natural fiber produced by llamas raised in their native environment from the Altiplano area in Bolivia.
Llama is classified as a luxury fiber. Thanks to its superior wicking coupled with the hollow fiber's incredible warmth, it holds body heat and regulates moisture. This fiber is also hypoallergenic, resistant to UV light, flame retardant and stains resistant.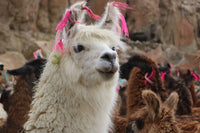 Testimonials
"Around my neck in winter,  my shoulders in spring, the scarf keeps me warm throughout the year!"

Sarah, Switzerland
"I just love the texture, the softness, the warmth and the beautiful story behind it"

Helene, Poland
"I got the scarf about 10 years ago, best gift ever, warm and light at the same time, like a second skin!"

Benjamin, Ukraine
Embark with us on our journey to Bolivia