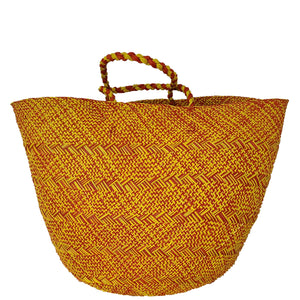 This beautiful bi-color basket is made out of Iraca palm tree straws that are sun-dried and then dyed in a small village in Colombia. 
Robust and lightweight, this handcrafted basket can be used to store logs near your fireplace, magazines in your living room or toys in your children's playroom.
Handwoven by artisans, each is therefore unique and colors and shapes may vary from one another.
Colors: Yellow and orange
Material : 100% natural fibers from the iraca palm
Dimensions: (D x H) +/-  16" x 16" - 40 cm x 40 cm
Weight: 14 oz – 400 grams.

Handcrafted by women artisans from Colombia
100% natural
Ethically made in a fair trade environment